Biography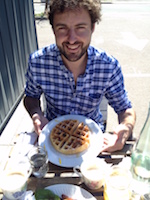 As of April 2017, I work as a Senior Search Engineer on Internationalization for Apple in San Francisco/Bay Area.
From November 2014 to April 2017, I worked as a Senior Data Scientist at Blueshift Labs, a San Francisco based startup in marketing automation. The data science team digs into very large volumes of user events, computes scores for individual users, and makes extremely personalized recommendations at scale.
Before moving to the Bay Area, I worked at Yahoo! Labs in Barcelona, Spain, between September 2013 and November 2014 as a Research Engineer in the Web Mining group. There, I was doing data mining on huge (web-scale!) amounts of data from the Web. Next to internal Yahoo projects, I worked on the EU FP7 Limosine project. I was also doing research on geo-related Flickr data, related to the topic of my PhD thesis.
I obtained my PhD degree in Computer Science from Ghent University in 2013 on the topic of "Georeferencing Text Using Social Media". Over the past few years, I've been working on mining geographical information from large datasets of social media content (up to 100 million training items), which were obtained by web crawling.
Before my PhD, I obtained a Master of Science degree in Computer Science (Ghent University, 2004, licentiaat), studied at the Universidad Politecnica de Valencia (UPV), Spain, as a foreign exchange student (Erasmus 2004-2005), and received the Engineering degree of Master of Science in Computer Science (Ghent University, 2007, burgerlijk ingenieur ICT).
As of Oct 1st 2006, I have been a researcher at the Internet Based Communication Networks and Services (IBCN) research group of Ghent University. Next to the research for my PhD, I have been teaching various lab courses over the years to more than 2200 bachelor students in engineering and computer science such as: Programming in Java (6 semesters, 2006-2012), Software Engineering I and II (5 semesters, 2006-2011) and engineering projects about Google PageRank (1 semester, 2008) and the famous Lego NXT Robots (2 semesters, 2009-2010).
Expertise
Scalable machine learning on hadoop (pig + python, mapreduce, hive, AWS), (web scale) data mining, (geographic) information retrieval , natural language processing, personalisation and recommendations
Contact
PhD Dissertation
Georeferencing Text Using Social Media. March 18th, 2013, Ghent University, Belgium.

Publications
Driving Curiosity in Search with Large-scale Entity Networks
Ilaria Bordino, Mounia Lalmas, Yelena Mejova, Olivier Van Laere
Submitted for the ACM Sigweb Autumn newsletter, August 2014.


DEESSE: entity-Driven Exploratory and sErendipitous Search SystEm
Olivier Van Laere, Ilaria Bordino, Yelena Mejova, Mounia Lalmas
To appear in proceedings of CIKM'2014, Shangai, China, November 2014.


The Benchmark as a Research Catalyst: Charting the Progress of Geo-prediction for Social Multimedia
Martha Larson, Pascal Kelm, Adam Rae, Claudia Hauff, Bart Thomee, Michele Trevisiol, Jaeyoung Choi, Olivier Van Laere, Steven Schockaert, Gareth J.F. Jones, Pavel Serdyukov, Vanessa Murdock, Gerald Friedland
Submitted and under review as a book chapter for the book "Multimodal Location Estimation of Videos and Images", published by Springer, June 2014.


Georeferencing Flickr Resources Based on Multimodal Features
Pascal Kelm, Sebastian Schmiedeke, Steven Schockaert, Thomas Sikora, Michele Trevisiol, Olivier Van Laere
Submitted and under review as a book chapter for the book "Multimodal Location Estimation of Videos and Images", published by Springer, June 2014.


Georeferencing Wikipedia documents using data from social media sources
Olivier Van Laere, Steven Schockaert, Vlad Tanasescu, Chris Jones, Bart Dhoedt
ACM Transactions on Information Systems 32(3):12, January 2014


Spatially-aware term selection for Flickr photo geotagging
Olivier Van Laere, Jonathan Quinn, Steven Schockaert, Bart Dhoedt
IEEE Transactions on Knowledge and Data Engineering 26(1):221-234, January 2014.


Georeferencing Flickr resources based on textual meta-data
Olivier Van Laere, Steven Schockaert, Bart Dhoedt
Information Sciences 238(1):5274, July 2013.


Detecting Places Of Interest using Social Media
Steven Van Canneyt, Steven Schockaert, Olivier Van Laere, Bart Dhoedt
Accepted for the 2012 IEEE/WIC/ACM International Conference on Web Intelligence, December 2012


Georeferencing Flickr photos using language models at different levels of granularity: an evidence based approach
Olivier Van Laere, Steven Schockaert, Bart Dhoedt
Journal of Web Semantics 16(1):17- 31, November 2012.


Using Social Media to Find Places of Interest: A Case Study in London (best paper award)
Steven Van Canneyt, Steven Schockaert, Olivier Van Laere, Bart Dhoedt
Proceedings of the First ACM SIGSPATIAL International Workshop on Crowdsourced and Volunteered Geographic Information, November 2012


Ghent and Cardiff University at the 2012 Placing Task
Olivier Van Laere, Steven Schockaert, Jonathan A. Quinn, Frank C. Langbein, Bart Dhoedt
Working Notes of the 2012 MediaEval Workshop, October 2012


Hybrid reasoning technique for improving context-aware applications
Matthias Strobbe, Olivier Van Laere, Bart Dhoedt, Filip De Turck and Piet Demeester
Knowledge and Information Systems 31(3):581- 616, June 2012.


Integrating location and context information for novel personalised applications
Matthias Strobbe, Olivier Van Laere, Femke Ongenae, Samuel Dauwe, Bart Dhoedt, Filip De Turck and Piet Demeester
IEEE Pervasive Computing 11(2):64-73, April-June 2012.


Georeferencing in Social Networks
Pascal Kelm, Vanessa Murdock, Sebastian Schmiedeke, Steven Schockaert, Pavel Serdyukov, Olivier Van Laere
Book Chapter in Social Media Retrieval, Springer, 2012. ISBN 978-1-4471-4554-7


Ghent University at the 2011 Placing Task (distinctive mention)
Olivier Van Laere, Steven Schockaert, Bart Dhoedt
Working Notes of the 2011 MediaEval Workshop, 2011


Georeferencing Wikipedia pages using language models from Flickr
Chris De Rouck, Olivier Van Laere, Steven Schockaert, Bart Dhoedt
Proceedings of the Terra Cognita 11 Workshop, 2011


Time-dependent recommendation of tourist attractions using Flickr
Steven Van Canneyt, Steven Schockaert, Olivier Van Laere, Bart Dhoedt
Proceedings of the 23rd Benelux Conference on Artificial Intelligence (BNAIC), 2011


Finding locations of Flickr resources using language models and similarity search
Olivier Van Laere, Steven Schockaert, Bart Dhoedt
Proceedings of the First ACM International Conference on Multimedia Retrieval (ICMR), 2011


Enriching auto-visual chat with conversation-based image retrieval and display
Jeroen Vanattenhoven, Christof Van Nimwegen, Matthias Strobbe, Olivier Van Laere et al.
Proceedings of the ACM Multimedia 2010 international conference, 2010


Ghent University at the 2010 Placing Task (quantum leap award)
Olivier Van Laere, Steven Schockaert, Bart Dhoedt
Working Notes of the 2010 MediaEval Workshop, 2010


Interest based selection of user generated content for rich communication services
Matthias Strobbe, Olivier Van Laere, Samuel Dauwe, Bart Dhoedt et al.
Journal of Network and Computer Applications (JNCA), 2010.


Combining Multi-Resolution Evidence for Georeferencing Flickr Images
Olivier Van Laere, Steven Schockaert, Bart Dhoedt
Proceedings of the Fourth International Conference on Scalable Uncertainty Management (SUM), p. 347-360, 2010


Towards Automated Georeferencing of Flickr Photos
Olivier Van Laere, Steven Schockaert, Bart Dhoedt
Proceedings of the 6th Workshop on Geographic Information Retrieval, 7 pages, 2010


Location-based service enabling platform for cultural heritage environments
Samuel Dauwe, Matthias Strobbe, Olivier Van Laere, Filip De Turck et al.
Proceedings of the International Conference on Wireless Networks (ICWN), 2009


Tag based generation of user profiles
Matthias Strobbe, Olivier Van Laere, Bart Bogaerts, Samuel Dauwe et al.
Proceedings of the International Conference on Internet Computing (ICOMP), 2009


Enriching Networked Applications and Services through User-Generated Content
Olivier Van Laere, Matthias Strobbe, Koen Michiels, Steven Schockaert, Samuel Dauwe, Jeroen Vanattenhoven, Christof van Nimwegen, Pieter Dhondt, Tim Verbelen, Bart Dhoedt, Filip De Turck, Piet Demeester
Proceedings of the 48th FITCE Congress, p. 14-18, 2009


Managing and using context aware information
Olivier Van Laere, Matthias Strobbe
Proceedings of the 10th UGent-FirW Doctoraatssymposium, 2009


Automatic learning of user interests for personalized communication services
Matthias Strobbe, Olivier Van Laere
Proceedings of the 9th UGent-FirW Doctoraatssymposium, 2008


Efficient management of user interests for personalized communication services
Matthias Strobbe, Olivier Van Laere, Samuel Dauwe, Filip De Turck et al.
Proceedings of the 5th International IEEE Workshop on Management of Ubiquitous Communications and Services (MUCS), 2008


Context based selection of user generated content
Matthias Strobbe, Olivier Van Laere, Bruno Volckaert, Filip De Turck et al.
Proceedings of the International Conference on Semantic Web & Web Services (SWWS), 2008


Enabling platform for mobile content generation based on 2D barcodes
Olivier Van Laere, Matthias Strobbe, Philip Leroux, Bart Dhoedt et al.
Proceedings of the International Conference on Internet Computing (ICOMP), 2008


Interest based selection of user generated content for rich multimedia services
Olivier Van Laere, Matthias Strobbe, Samuel Dauwe, Bart Dhoedt et al.
Proceedings of the 9th International Workshop on Image Analysis for Multimedia Interactive Services (WIAMIS), 2008


Design of CASP: an open enabling platform for context aware office and city services
Matthias Strobbe, Jan Hollez, Gregory De Jans, Olivier Van Laere et al.
Proceedings of the 4th International Workshop on Managing Ubiquitous Communications and Services (MUCS), 2007


Technical Program Committee